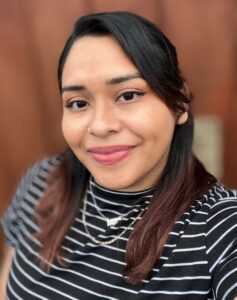 Walking around Home Depot and looking at construction materials is Rosa Flores Mendoza's idea of a good time. Thanks in part to BY Training, these days she does it as part of her job … which means she's doing what she dreamed of when she was a kid.
That hasn't always been the case. As a child, Rosa watched her dad work in construction in Florida, and she thought she'd do something in that field as well. After graduating from Lawrence Central High School, though, she decided that dental assisting offered the future she wanted. It didn't take long for her to realize she was wrong: The dental field didn't give her the opportunity to be creative or build things.
Fast forward to 2018. With two children and a husband, Rosa searched her soul and decided to go back to her roots by taking classes toward a degree in construction management at Ivy Tech.
Then she saw something on the internet that gave her career shift a major boost. Reading about the BY Training program, she was impressed with how quickly she could complete the classes, gain more experience, and get two OSHA certifications. She signed up.
In 2022, Rosa started Rosa Rose Construction. She considers the lessons and support she got from her instructor to be one of the biggest benefits of the class, and she knows she still can call her instructor for advice and help.
Rosa acts as general contractor in her firm, guiding residential renovations and repairs and subbing to specialists as needed. Her goal is to develop a team of HVAC, plumbing, electrical, carpentry and flooring contractors who work as a team and stand behind each other's work … and to be able to continue to walk the aisles of Home Depot and call it work.
Check out Rosa's company's website at RosaRoseConstructionLLC.com.
Stories like Rosa's wouldn't be possible without support from Lilly Endowment – Thank you!