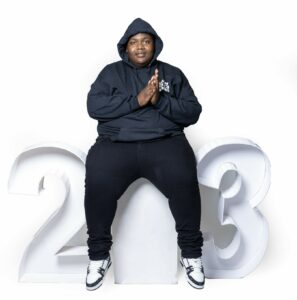 After Carl Beasley graduated from high school in the spring of 2023, he wasn't exactly sure what he wanted to do with his life. He had previous work experience at grocery stores and fast food restaurants, but he knew he wanted a job that offered more consistent pay.
That's when, thanks to some close family friends, Carl decided to enroll in the BY Training program at Highlander Park in Indianapolis. He was happily surprised at how easy it was to sign up for the class, and he especially appreciated how seriously his classmates treated their in-class time in BY Training.
"There aren't really any limitations on who BY Training accepts, because this opportunity is for everyone," says Carl. "But everyone's also really focused on how this class can help them grow. It's great!"
Since graduating from BY Training, Carl has been working for Tradesmen International at a starting wage of $22 an hour. He began working locally for the company, but they'll soon be moving him to several projects out of town.
Carl says work looks different on a construction site than anything he's experienced before, but he feels it's the best work experience he's ever had.
"I still have to follow my boss's directions. Construction is all about listening to the people who know what they're doing. But now I get to do more than sweep the floors after we close. I'm building parts of people's homes that they'll use for years after I leave."
When asked what he'd say to someone considering the BY Training program, Carl says, "Jump right in. Don't be afraid. See if you like it. Take the class. The teachers will get you excited to learn. And the construction industry is really fun to work in. I get to learn something new every day on the job!"
More than anything, Carl is thankful for how BY Training has helped mold his career goals. "Now that I've been working on different construction sites for a few months now, I'm excited to start and own my own company. I have a real vision for my future, and BY Training taught me how to succeed in my future goals."