Instructor Spotlight
Jesse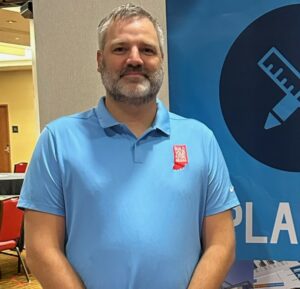 Jesse Linville was exposed to construction at an early age. Part of a farming family that also maintained several rental properties around his hometown, he especially enjoyed the trade work, but decades would pass before he realized he could turn his construction experience into a career.
"So many voices in my life were telling me that a successful person goes to a four-year college and gets a degree," Jesse says. "I knew I enjoyed working with my hands, but I couldn't seem to meet everyone's expectations AND work in construction." But construction was always there, and he eventually found a way to blend it with a desire to teach – unaware that he was taking his first step toward becoming a BY Training instructor.
"I kept telling myself construction work was something I could do until something else came along," he says. "Then when I broke my arm on a job, I decided to get my teaching degree through an online college because so many people were teachers in my family too." For several years, he taught high school students basic construction skills while flipping houses.
When Jesse first heard about BY Training, he was impressed by the program's mission. "BY Training creates a pathway to meaningful work for so many individuals who don't know anything about construction," Jesse says "Our goal for each of our students is to help them do better—which can look different for every person and where they are in their life."
Now that he is an instructor, Jesse enjoys sharing the field he loves with a new generation of trade workers. "Something good happens when you work physically with your hands. There is a deeper value in the product you create," he says. 
"I still love showing off the construction projects I've completed to family and friends, and I want that level of pride to echo through my students' lives as well."